Fall =  Slow and Routine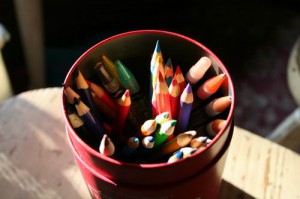 I thought it might be interesting to those starting out to see what the rhythm of a homeschooling year looks like in our family. And even if you have been homeschooling a while, it might be interesting. I always enjoy seeing what other families' routines  are like.
During the fall (end of August, Sept, Oct, early Nov) we are trying to get into a routine that works for this season.
What we do:
Try to stay on our schedule
Get used to going to bed/getting up consistent times (Mom included)
Work on training in chores
Play outside at home after school is done
Try to get a good start on schoolwork for year, stay up with lesson plans.
What we don't do:
Go to the library almost at all (because the new books throw off my plans)
Go on any unplanned field trips
Any other projects other than school or basics.
No home improvement. No organizing extravaganzas. No trips to Washington D.C. (My husband actually went last week, and I thought about taking the kids, but travel like that takes a huge amount of time and energy and I just wasn't up for it.)
I don't go to the YMCA much during this time.
So far this fall, school is eating my lunch. I find it is taking a lot more time this year. The Classical Conversations class (Essentials) means more writing homework for my son, and my son and daughter both have a tiny bit of co-op homework now. Even my three-year-old is in Awana Cubbies now, so he has his little verse to memorize–very cute, but one more thing to squeeze in.
I'm yearning to slow life down. It's been too busy for too long. I've said no to some writing opportunities. I won't be an exciting blogger with a big readership, because it requires too much time at the computer. I'm okay with that.
I want slower, calmer days at home this year: doing laundry, learning together with my children, reading together under the tree in the backyard.
How about you? What does your fall look like? Are you trying to slow down?