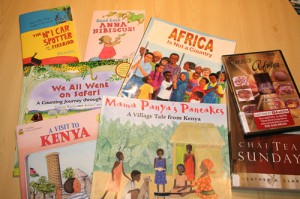 Sometimes I wonder if our house is actually on the moon, unhindered by so much gravity. Because my children tend to float up onto the furniture with no warning and, at least according to them, entirely by accident.
Today I looked at my nine-year-old son, whom I had just gotten out of time out for climbing all over the couch and setting a bad example for his brother during reading time, and he was climbing up the arm of the couch. Thirty seconds after he had promised he would sit still like a normal human. "Oh! Mom! I don't know how I got up here! I'm sorry!" And he genuinely was. He had no idea that he was floating up the furniture. Again.
Anyway, despite the fact that no one seems to stay attached to the ground or sitting for more than 30 seconds, we've been doing a lot of reading around here lately. Mostly about one topic: Africa. Because we're going.
That sentence strikes fear in my heart. Also, excitement. And trepidation. And joy. And terror. Sort of like homeschooling.
No, I'm thrilled we're going. I want my kids to see the world, more than our little tidy piece of it. I want them to serve others and learn compassion and have practice being uncomfortable. And yes, we could do all those things here in Oklahoma. But we have the chance to go visit some friends, serve them and just do whatever we can (working out some details still) to refresh their hearts (I hope).
The other day I started to make a list of a few minor concerns such as:
lost luggage
lost children
civil war
malaria
food allergies (mine)
food avoidance (children's)
mosquitoes
children getting speared by a rhino
children getting eaten by a lion
husband not returning from safari
robbery
having to eat a big pot of goat meat
listening to 2 weeks of nonstop whining about things my kids don't like
death
Then I decided to stop worrying about it. I went to the travel.state.gov website to find out what immunizations we needed. There I read about a travel alert to Kenya that warns people to be alert after a few instances of kidnapping and murder. Fabulous.
I'm not going to worry about it any more. As the events from this week illustrate even more, there is no place that is perfectly safe, even those we'd like to think are. God is in control of our lives here, our lives there, and everywhere in between.
A Unit Study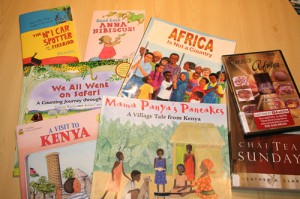 In preparation for our trip I found whatever our library had about Africa. We found some picture books, a DVD on the food there and some Swahili CDs. I've made one Kenyan recipe. I want to make "ugali and sukuma wiki" but haven't done it yet. I need to find out where to get goat meat.
We've been reading those, listening to some CDs and generally trying to soak in what we can. I feel like we haven't done much because we're still trying to do those pesky subjects like spelling and math, but I'm hoping to focus on it more this summer.
Wherever you are going this summer, you can do the same, just get some books, learn a bit about it ahead of time, and dig into whatever interesting culture you can find about that place. So much fun!
(If you happen to want to learn about Africa, I'd recommend all the resources in the picture. They are great! Chai Tea Sunday and the DVD are for grown ups; the others are for kids. Also this David Livingstone book. )
Cookie Map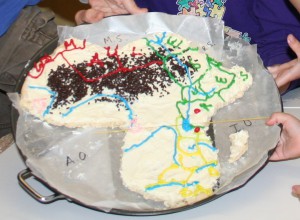 And of course we had to make a cookie map, because you say Geography and I say Cookie Map. Here's how we did that:
Bake some Pillsbury sugar cookie dough into one huge flat cookie. I covered the entire pizza pan.
Cool. Frost in white. Trace shape of continent, country, or area in toothpick (so you can correct mistakes) into the frosting. Cut out shape. (It doesn't have to be perfect, as evidenced by my weird-looking Africa.) Put wax paper or foil around edges of cookie (to be the water or boundaries of the area).
Have kids help decorate (my kids didn't help until this point). We used chocolate sprinkles for the Sahara Desert, frosting for rivers and some country boundaries, red hots for mountains and one piece of spaghetti for the equator. Licorice would have worked if we had had any.
Take pictures, share with friends and enjoy!
 Are you planning any trips this summer? Are you doing any fun learning before you go?