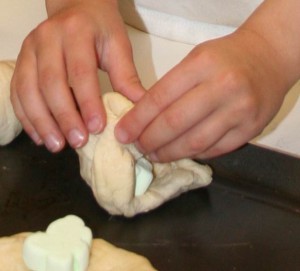 {This is a repost from last year. We're planning to make these on Saturday.}
"He is not here; he is risen!"   Luke 24:6
This is the one Easter activity my children think is mandatory. They did it in their Cubbies class in Awana, and thus it must be  performed every Easter, without fail.  Today is the Friday before Easter, and we just remembered, so when we went to the store to
get Easter egg dye and a salad kit for Easter dinner, we picked up some rolls and marshmallows too.
DIRECTIONS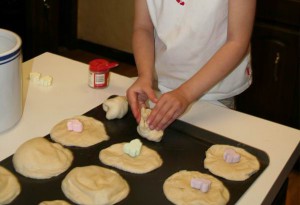 Get some yeast freezer rolls, the kind that have to rise for 3-5 hours.  Let them rise.  Once the rolls have risen, your kids can flatten them out hide a big marshmallow in the center of each one, wrap the roll around, sprinkle with cinnamon and sugar and put it on a cookie sheet.
Bake the rolls according to instructions on the bag. When the rolls are done, the marshmallow is gone! It symbolizes the empty tomb! These rolls are a great, easy, fun activity and can be served with the Easter meal or as dessert.
Here's a link that shows doing it with Crescent rolls. http://savingdollarsandsense.com/resurrection-rolls-recipe.html Either type of rolls would work fine, and Crescent rolls are probably easier since you don't have to wait for the dough to rise. We just have always done it with the frozen kind.
He is not here; He is Risen!