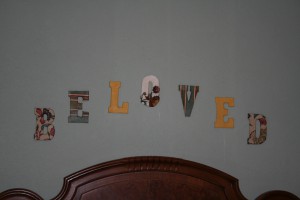 This is what I did for over our bed. The fabric is napkins from Pottery Barn (one napkin covers 2-3 letters), and it's ModPodged (matte) onto those 99cent letters from Hobby Lobby. Then I hot glued a ribbon to the back and stuck it up on the wall with a thumb tack. I love the pop of color and whimsy in our otherwise solid-colored room.
You could do something similar with a child's name in their room, with any leftover fabric you have.
Total Time: about 6 hours (including getting supplies)
Total Cost: about $30
Another cute idea I just saw is here: http://www.icanteachmychild.com/2012/06/comfort-gray-a-happy-room/
With that, we're officially done with big decorating/renovating projects, 3/4 of the decluttering/organizing is done, and school prep work for next year is mostly done.
I'm ready to sit around and do nothing for a while!