I got this adorable apron from Pier 1 the other day and it's hanging in my kitchen making me happy. I hardly ever go to Pier 1  because a) they have too much gorgeous stuff, and I end up wanting things I don't actually need, like cute aprons, and b) it's about the worst place in the world to go with small children. I really talked to my kids about NOT TOUCHING ANYTHING before we went in, and the older ones did fine, but I put my two-year-old down for like four seconds, and when I turned back around he had grabbed this feather-covered chicken and had white feathers sticking to his grubby little hands and a guilty look on his face. I offered to buy it, but the
guy there kept telling me they could write it off and it was no big deal, and I was very glad because it was, by then, a sort-of hideous $15 half-bald Styrofoam oval of a chicken. And I don't really need one of those.
Anyway . . .  my apron. Got it. Love it. I'm hoping it will inspire me to make dinner, which is one of my goals for the rest of the year. I didn't actually make dinner much last
year, and I think it would be a fabulous new hobby! My husband says he supports
the idea.
I've been working on the book like a crazy person, but there was a brief two-week window where there wasn't anything I could do, so I was just waiting (which I'm not so good at), and I made gluten-free chicken-pot pie and let me tell you, it was delicious. I even served it on actual plates.  I took pictures. Of dinner. On plates. See,
don't you feel better about your own homemaking skills?
I've had a thousand blessings a day around here lately, what with books being published, children turning six and eight (gasp!), prayers being answered, and plum trees bursting into bloom in the sunshine.  I've been writing down lists upon lists of
answered prayers and blessings. It's all very exciting, and I'm enjoying it immensely
(Except for figuring out Facebook. That, not so much.), and thrilled at what God
has done and excited to see what He's going to do with this book. But also, I'm
looking forward to having a few less things on my list. What's been ignored a
lot lately is the heart of my home. I've been so busy, typing my little fingers
to the bone, that I've been blocking out all the non-essentials. Dishes, for one.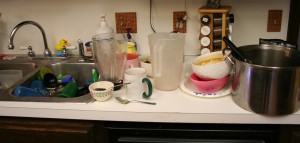 We've been listening to On the Shores of Silver Lake on CD, and I haven't enjoyed it as much as the
other books. I kept feeling oddly unsettled, with that Ingalls family packing up their belongings and taking the train out West, leaving their sweet, cozy home on Plum Creek so Pa could work with the railroad. It didn't feel right. I missed their home. I didn't know where they would end up. Ma didn't really like
the idea, but she went. It just seemed all wrong. I can't remember what happens
at the end of the book, but tonight the chapter we listened to was when they
got to move into the surveyor's house for the winter. It was a good, snug,
board house with supplies and even a trundle bed for Grace.  And, in this chapter, everything was right again. The family was together, settled, with peaches and saltines for dessert on their red-checked tablecloth, and Ma rocking idly in the rocking chair after
supper. For the winter at least, they were home.
That chapter changed the tone of the book—to have a warm home and a contented mother. I feel better hearing that, and Laura felt better living it. So, I'm eager to get back there myself, to the heart of my home.  I'm humbled and grateful that God
and my husband were in cahoots to help me get this book done, so thankful for
all the friends who helped it happen, and amazed at how God has carried this
plan along. I'm looking forward to promoting the book this summer.  But I'm also looking forward to wearing my cute apron and making dinner.
For now though, despite the busyness, I am so incredibly blessed. I can kiss my soft-cheeked children, get tears in my eyes at how they've grown, feel my heart dance every time I see snowy blossoms gracing the dining room table,
and rest in the beauty of home.
***
Family Song right now is How Firm a Foundation, verses 1 & 3. Love this video of friends in France with a new church and it's on there.
How Firm A Foundation
How firm a foundation, ye saints of the Lord,
Is laid for your faith in His excellent word!
What more can He say than to you He hath said—
To you who for refuge to Jesus have fled?
"Fear not, I am with thee, oh, be not dismayed,
For I am thy God, and will still give thee aid;
I'll strengthen thee, help thee, and cause thee to stand,
Upheld by My gracious, omnipotent hand."