These are the resources I'd recommend to a friend.
This is based on preschool with my older two (seeing what worked and what didn't) and what I'm doing right now with my three-year-old.
Remember to check your library and house before spending money.  Homeschooling preschool requires almost no investment to begin.
YOUNGER PRESCHOOLERS (2-3 YEARS)
I know you are an overachiever, like I was, and want to skip this and go right to kindergarten. Let me just say with my first son I jumped ahead and handwriting took us three years of tears. It's really better to get the fundamentals of motor skills and obedience down first before trying to teach them to read.
Character / Life Skills – all resources are optional.
These are Christian-based, but you could find other ones that fit your family.
Little Jewel Books (or any books that teach character, order, and obedience) My favorites are: Just Four, Molly Helps Mother, Helping Mother, A Boy to Help
Steve Green Hide 'Em In Your Heart Scripture Memory CD/DVD combo (or any Bible memory CDs you like)
Toys: small dustpan and broom or brush, water squirt bottle (for wiping tables), dolls, wooden or plastic animals, puzzles, blocks, fabrics, hats (use what you have; these are just ideas)
Toddler Bible (or any toddler Bible you like)
Awana Cubbie Program (or any program that teaches your child the Bible or gives them a chance to interact with others on a regular basis)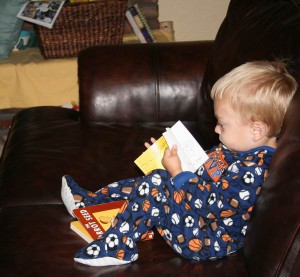 Academic:
Pre-Reading
Before Five in a Row The parent's book has a list of classic picture books and also information on teaching little ones. If you buy one thing, I'd recommend this.
Other guides to great books:  Sonlight preschool book list  Click on "included items" to see titles. (check your library) OR Simply Charlotte Mason. OR the Honey for a Child's Heart book (check your library).
Alphabet puzzle or toys
Talking and listening. This builds vocabulary.
Memorizing poems, songs, nursery rhymes. (You probably already do this.) We've been doing a Circle Time and I LOVE this for wiggly preschoolers. They get to jump around and have no idea how much they are learning. Here's a link to our

Fall Circle Time.

  Also, here are the

poems

we learned one year.
 

Rod and Staff 3 year old workbooks

(I use these) when they are ready to sit and color. They can just work through them at their own pace.
Toys: good books (try used book sales); puzzles; toys for large motor skills like bats, balls, beanbag tosses, tricycles, etc.
 Pre-Handwriting
Activities:

Helping activities like wiping a table, sorting silverware, folding washcloths, digging in the garden, putting muffin liners in a muffin tray, cracking eggs, stirring, pouring, sweeping, Dustbusting, watering plants, helping cut and arrange flowers or leaves for a centerpiece, cutting a banana with a butter knife.Basically the kid version of your real work. (See books on Montessori for more information on this.)
Sensory activities like play-doh, playing in a sand box, digging, pouring dried beans, pouring water, making rolls, bathtub play, washing toys outside. Lots of things outside provide this: sand, leaves, grass, water, etc.
Craft activities like cutting, pasting, coloring, watercolor (cleans up easily) painting, playdoh.
Learning toys like puzzles, shape sorters, matching games, etc.

Toys: chalk, crayons, watercolor paint, kid scissors, felt to cut up and tell stories with, puzzles, any of the tools mentioned above.
This sweet little workbook is cheap ($3) and gives them practice sitting in a chair, holding a pencil, etc.
 Pre-Math
Talk about anything that involves numbers ("math concepts") like

weights – what things weigh at the store, what they weigh
seasons – names of seasons, temperature
time – days of week, months, year
money – bills, coins (they won't really understand values until first grade)
shapes and colors

counting

numbers to 3, then 5, then 10 (fingers and toes are perfect)
they could memorize higher, but it won't mean anything
numeral recognition once they understand amounts
Books that include counting

matching, sorting, sizes (small, medium, large)

puzzles, matching games
putting away silverware (sorting), setting the table (counting), folding washcloths (shapes and colors), matching socks (matching), sorting laundry (sorting), putting things in size order when cleaning up
Avoid Screens
Avoid electronic toys, screens, video games, computer time where possible. Apps replace real learning. Touch pads train them to expect to be entertained. My preschooler doesn't need ANY screen time, but sometimes I need him to watch a show every now and then for my sanity. I try to plan our normal daily schedule with little or no TV (we allow more on the weekends), but I use it for a backup when I'm sick or exhausted. (Read Endangered Minds by Jane Healy for more on the effect of technology on children's brains. )
If you have a choice between a LeapFrog Phonics toy or reading a book with your child, I'd say read a book, or let them look at it if you need to do something else. If your child gets used to letters jumping around and talking to him, he's going to be really bored by a plain old book when it comes time to read. Think about the appettite you're creating.
 Break for Mom
I think this is as important as any curriculum! If you are home all day with a preschooler and/or baby(ies), it is very helpful to have a weekly break. Think about what might work for you: switching off babysitting with another mom, a MOPS group, joining the YMCA, a babysitter, or a Mother's Day Out program.
OLDER PRESCHOOLERS
(4s and early 5s) – When they can sit 5-20 minutes and focus without getting frustrated. One or two little 5-20 minute sessions a day is plenty.
Continue with obedience, character training, and the hands-on ideas above.
Reading to them: continue Five in a Row, Sonlight, or other high quality children's books
Learning to Read: If they know all their consonants and vowel sounds, they may be ready to blend three-letter-words. Try Teach Your Child to Read in 100 Easy Lessons. If they get frustrated, stop and try again in a few months.
Handwriting: Handwriting without Tears – I like this multi-sensory method. They learn letter shapes first before ever sitting down with a pencil. I got the teacher's guide, wooden letter shapes, guides, and chalkboard at Mardel. (Not cheap.)
Math: I LOVE this sweet little booklet ($3!). My daughter did this and was well prepared for her kindergarten math curriculum.Includes coloring, cutting, etc.
KINDERGARTEN
This is mainly to let you know where you are headed. This is what I use, but you can go to Mardel or a homeschool convention and see what you like. You can get many books used or from the library, you don't have to own them, but it's helpful to have a list made of some classics you would like to read. I'd say my kids spent about one-two hours total a day on workbook/sit down work. Maybe another hour reading, broken up through the day. Lots of play, helping, outside time.
Reading to them: A good book list for this age kids. Five in a Row or Sonlight lists. You will want:
a) rich, beautiful picture books to read together ("Read Alouds")
b) some super-easy readers for when they start to read ("Readers")
c) you could start chapter books now ( Little House in the Big Woods is my favorites to start.) They could listen to audio books at rest time.
Teaching them to Read/ Phonics: Teach Your Child to Read in 100 Easy Lessons. (I use this a Beka guide and workbook, but I think the 100 Lessons book explains things better if this is your first time.)
Math: Any program probably is fine. For my first two, I used Bob Jones Kindergarten then switched to Saxon for above that. Look for "math manipulatives" at used book fairs. (cubes, tiles, pattern blocks, etc.)
Handwriting: Handwriting Without Tears – same links and supplements mentioned above under older preschoolers.
Science / Nature: Try to spend lots of time outside–gardening; walks; collecting leaves; visiting lakes, streams or beaches; experiencing the seasons, etc. This gives a foundation for science and a rich experience upon which to build. You can check out books from the library on subjects that interest them: animals, birds, bugs, butterflies, etc. Raising caterpillars into butterflies is a great project for this age. If you can get tadpoles, you can watch them turn into frogs. Plant tomatoes or peppers or radishes or basil or beans. Miracles abound!
Everything else is extra. They will learn about history, science, etc. from all the reading they are doing and from experiencing life (assumed they are doing interesting things, not TV all day of course).
Blogs with Preschool Ideas
Look around your house before you buy a bunch of stuff. You can improvise. My three-year-old might do one such activity a day, not really tied to a letter, and it might last 10-20 minutes. Also, don't get overwhelmed by the volume of ideas. If you do one or two, that's awesome.
I Can Teach My Child – preschool activities
Confessions of a Homeschooler – ideas for toddlers here and here
No Time for Flashcards
Recommended Reading for Parents
I'm sure I'm forgetting some, so I may add to this list periodically.
What questions do you have? Feel free to ask in the comments and I'll try to answer as best as I can!