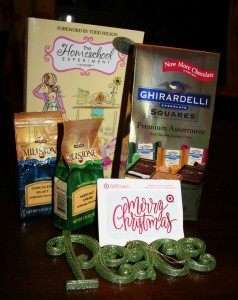 This giveaway is now closed.
The winner is Tessa Smith (comment on November 12, 2012 at 8:01 pm). Tessa, congratulations! Email me at Charity@TheHomeschoolExperiment.com with your mailing address please. Thank you all for entering and for the wonderful ideas. May you all have a wonderful and peaceful celebration of Christ's birth.
***
I wanted to celebrate God's goodness to me this year in so many ways–healthy self and children, dear friends, husband who is nice to me even when I don't deserve it, and this crazy thing of having a book published that people have actually read! And liked! Truly amazing.
When I asked my Facebook friends what I should give away, Liz had the idea of a trip to the Bahamas, and I considered it, but then you'd have to pack and go buy sunscreen and find someone to pick up your mail while you were gone, and it just sounded like such an awful lot of work.
I thought what sounded much more relaxing was a few quiet hours to yourself to drink coffee and eat chocolate and read. And I was pretty sure you were all sick of hearing about the book, but Tasha requested it. So I threw one of those in there as well.
I included a $20 gift card to Target so you can go buy yourself a sweater or a magazine or whatever you want, and also an ornament that says, "Peace," because that is my prayer for all of us this Christmas–peace in our hearts and homes. (Sorry, I know this is early, but I need to get it sent out to you!)
Just leave a comment to enter. If you want to, leave a comment telling an idea to focus your and your family's hearts on Christ at Christmas.
Here's what it will look like assembled.
If you want to knock out some Christmas shopping, just let me know and I'll send the whole thing to the sister/daughter/friend of your choice.
She'll be thrilled and you'll have one less thing to do!  (If you do give it away as a gift, I'll send you a $20 Target card too, just for being so thoughtful.)
If you want to retweet, or pin, or any other means of spreading the word, enter an extra comment for each thing you do.
GIVEAWAY open to residents of the U.S. ages 18 and older. Ends at midnight Tuesday, November 13th, 2012. Winner chosen at random.
Just leave a comment to enter. If you want, What is one thing you do to help focus your family's hearts on Christ at Christmas?