Autumn Leaf Watercolors
Step 1: Have your children collect interesting and colorful leaves on a walk or while in the backyard.
Step 2: Give them paper and watercolors. They trace a leaf on the paper, then fill in with watercolors however they want.
If they get carried away and just start painting the paper with color, fine. It's really about them interacting with the colors and lines and making art that is beautiful to them.
I like to sit at the table and paint with my kids. It gives the project a bit more importance, and besides that, it's relaxing and fun.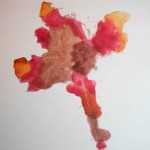 Optional Step 3:
They can sprinkle salt on the wet paint. Let it dry. Dust off the salt. You can
see the interesting patterns the salt made as it absorbed the water.
Note: I love watercolors because they don't stain clothes or people, so if your three-year-old paints his face green, and he surely will, it cleans right off.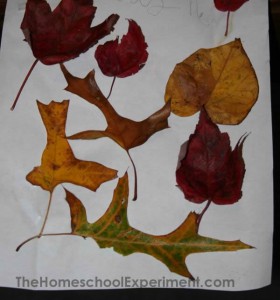 Autumn Leaf Collage
Step 1: Use your collected autumn leaves.
Step 2: Give the child paper and glue. Have them glue down the leaves in any arrangement they find fitting.
Step 3: Hang up and have bejeweled walls.
As you can see, these are the types of projects that are really about the children interacting with God's amazing creation, and form and color, more than making a certain product. Glorious.
Remember, it's the process, not the product. Have fun!
Sorry, I accidentally posted this twice, once without pictures, so you might have gotten a repeat post in your email. Sorry!