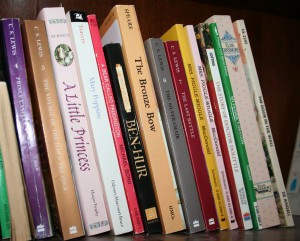 One of my main goals this year is to sit on the couch and read to my kids. (I kinda dropped the ball last year.)  I thought this might be a way to both hold myself accountable and to share what books we love as we go.
Do you want to join us? Here's my idea: I will post our year's chapter reading goals. I'll update it about once a quarter, letting you know if we did it and what we thought of the books. Sort of a mini book review.
And you link up, okay? You could do it two ways:
If you have a blog – comment with a link to your blog post where you do the same
If you don't – comment with the books you want to read for the year, or what you've been reading and what you thought. A mini book review.
We'll just try it and see how it goes. I know there may only be a few who join in, but I figure we can at least learn from each other and share what books our kids like.
Your goal may be to read one chapter book this year, or twelve, or twenty-seven. Whatever. But sometimes it helps me to write these things down and share them with friends as a way of encouraging each other.
Join in, won't you?
My Chapter Book Goals for 2012-2113
(These are for my 8 year-old son and 6 year-old daughter. My 3 year-old gets mostly picture books. )
| | |
| --- | --- |
| August | Narnia: Prince Caspian |
| Sept | Narnia: Voyage of the Dawn Treader |
| Oct | The Little Princess, Burnett |
| Nov | Mary Poppins (1-3 books) |
| Dec | Peter Pan |
| Jan | Paddington Bear (1-2 books) |
| Feb | Ben Hur (picture version) |
| Mar | The Bronze Bow |
| Apr | In Grandma's Attic |
| May | Narnia: The Silver Chair |
| June | Narnia: The Last Battle |
Extras, if done early:
Mrs. Piggle Wiggle
The Story of Doctor Dolittle
Anne of Green Gables
James Herriot's Animal book
Heidi
The Door in the Wall
What about you? What chapter books do you hope to read with your children this year?
(I plan to do a two-part series on Real Life Tips for Reading Chapter Books later this week. Because this getting kids to sit still and listen isn't fabulously easy, is it? But let's do it anyway.)