Here's the order of the Little House on the Prairie Series, and my rating (and some of that is influenced by what my children thought of them). I listen to the CDs with my two older children, ages 8 (boy) and 6 (girl).  They also listen to a CD most
nights in bed as they fall asleep.
Little House in the Big Woods (5 stars)
Little House on the Prairie (5 stars)
Farmer Boy (about Almanzo's childhood in New York) (5 stars)
On the Banks of Plum Creek (5 stars)
By the Shores of Silver Lake (4.5 stars)
The Long Winter (5 stars)
Little Town on the Prairie (listening to now)
These Happy Golden Years
(The First Four Years would come next but was published after her death; it's not technically part of the series.)
We are starting Little Town on the Prairie. I had forgotten about it and thought we were on the last one already, and I just wasn't ready for Laura to be all grown up! So, I'm very glad to have this one come next.  So far, my kids have really enjoyed it, especially the story about the mouse eating some of Pa's hair, and the fight between the little kitten and the big mouse.  I think Laura Ingalls Wilder does such an excellent job of weaving the history and mood of the time together in a more mature narrative now that Laura is older, but still keeping these stories that delight young listeners.
My final review of By the Shores of Silver Creek is four-and-a-half out of five stars, not because it's not as well- written, but I just had an unsettled feeling for most of the book. That's exactly what the time was with the work on the railroad, wondering if they'd get their claim, moving, moving again, so I'm sure this was intentional. I mean, I liked it, and my kids did  too, I just didn't love it quite as much as the others. They still enjoyed the stories of Laura traveling west and having candy in a railway car, sleeping in a tent with cousin Lena, winter in the surveyor's house by the creek, and Laura and Carrie meeting up with a huge wolf one moonlit night.
Boxcar Children: Surprise Island
during Tea Time reading (afternoon, for 15-30 minutes, during my toddler's nap time)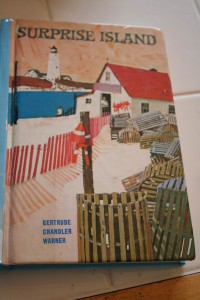 We just started this one.  It is the second in the series. My review of the first one, The Boxcar Children, is probably four-and-a-half stars.  I think
it's a great one for my son to read himself.  I read most of it to get him into it, but he's capable of sitting down and reading a chapter, or the whole thing if he wanted.
What I liked:
Simple vocabulary, so my son can read it on his own.
The children are nice to each other and look out for each other. Good examples.
Children are resourceful, thinking of ways to do things.
Simpler, more creative world – I like that these were written in the forties, because it shows how fun and exciting and adventurous the world can be even with no computers in sight. In a world where every show they watch, like WildKratts or Superwhy! even, seems to have kids using a handheld computer to get things done, it's so nice to see that kids can do all kinds of things just by using their own brains and what's around them.
What isn't my favorite:
Simple vocabulary, so I want to make sure they are listening to literature above their reading level as well, like the Little House on the Prairie series. They
learn new words all the time from that.
Sometimes bizarre that no adults are around.
Anyway, both my kids like the Boxcar Children series so far, and Tea Time is going well, even though we have only done it a few times!  It's a good snuggle time with my older two while my toddler is napping.  I really want to keep doing it.